Marriage Prayer – Bridling Our Tongues (James 3)

{Prayer written by Mini Series co-host, Davonne Parks}
Dear Heavenly Father,
We want to be lights for You (Matthew 5:14-16), and vessels You can use (2 Timothy 2:20-21). We long to bring others to the foot of the cross, but our tongues sometimes hurt our testimony.
Help us to use our voices for good, with uplifting words and gentle answers. Please guide us so we can rid our hearts of any bitterness, conceit, or discontent that may be causing ugliness to flow from our tongues (Luke 6:45).
Show us when we need to fill our minds with good things, rather than worldly concerns, so that pure words can flow more easily from our lips. Help us to break the habit of using our words to tear down, when we could be using them to build up. We don't want to be gossips or to make others feel like they're the next ones to be criticized.
Thank You for the Bible that comforts, uplifts, teaches, and convicts. We know each part of it was breathed by You and we desire to live by every word written within.
In Jesus name we pray, Amen.
"But the tongue can no man tame; it is an unruly evil, full of deadly poison. Therewith bless we God, even the Father; and therewith curse we men, which are made after the similitude of God. Out of the same mouth proceedeth blessing and cursing. My brethren, these things ought not so to be." – James 3:8-10, KJV
__________________________________________________________
"But no human being can tame the tongue. It is a restless evil, full of deadly poison. With the tongue we praise our Lord and Father, and with it we curse human beings, who have been made in God's likeness. Out of the same mouth come praise and cursing. My brothers and sisters, this should not be." – James 3:8-10, NIV
Looking for the Bible in a year? Click here for the December schedule.
---
---
About the Author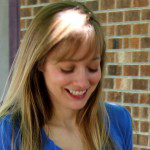 Known as The Tidy Mom, Davonne Parks authors a brand new inspiring blog where she encourages women to create an organized home environment that's conducive to life, love, laughter, and warm memories. Married 11 years, she and her husband Nathan homeschool their two children and run a thriving business together. Read Davonne's marriage testimony here, where she shares her heart for praying and growing as a couple. You can also check out Davonne's three inspiring eBooks, including Chaos to Clutter-Free, as well as subscribe to TheTidyMom.com to receive weekly homemaking motivation and inspiration.
---
---