Marriage Prayer – Living Out Our Faith (James 2)

{Prayer written by Mini Series co-host, Davonne Parks}
Dear Heavenly Father,
It can feel so easy to say we love You, but sometimes we forget that faith is not just about a feeling or a thought. Christianity is something we need to live, day in and day out, or our faith becomes spiritually dead (James 2:26).
Help us to share about Your love with others by actively living out our faith in addition to verbally sharing about Your truth (1 John 3:18, Mark 16:15).
Open our eyes so we can see the spiritual and physical needs of each other, and of others, and please guide our hearts as we work to assist with meeting those needs and pointing others to You.
In Jesus name we pray, Amen.
"What doth it profit, my brethren, though a man say he hath faith, and have not works? can faith save him? If a brother or sister be naked, and destitute of daily food, And one of you say unto them, Depart in peace, be ye warmed and filled; notwithstanding ye give them not those things which are needful to the body; what doth it profit? Even so faith, if it hath not works, is dead, being alone. Yea, a man may say, "Thou hast faith, and I have works:" shew me thy faith without thy works, and I will shew thee my faith by my works." – James 2:14-18, KJV

__________________________________________________________
"What good is it, my brothers and sisters, if someone claims to have faith but has no deeds? Can such faith save them? Suppose a brother or a sister is without clothes and daily food. If one of you says to them, "Go in peace; keep warm and well fed," but does nothing about their physical needs, what good is it? In the same way, faith by itself, if it is not accompanied by action, is dead. But someone will say, "You have faith; I have deeds." Show me your faith without deeds, and I will show you my faith by my deeds." – James 2:14-18, NIV
Looking for the Bible in a year? Click here for the December schedule.
---
---
About the Author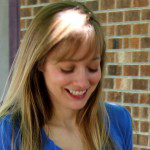 Known as The Tidy Mom, Davonne Parks authors a brand new inspiring blog where she encourages women to create an organized home environment that's conducive to life, love, laughter, and warm memories. Married 11 years, she and her husband Nathan homeschool their two children and run a thriving business together. Read Davonne's marriage testimony here, where she shares her heart for praying and growing as a couple. You can also check out Davonne's three inspiring eBooks, including Chaos to Clutter-Free, as well as subscribe to TheTidyMom.com to receive weekly homemaking motivation and inspiration.
---
---