Marriage Prayer –  Resist the Devil (James 4)

{Prayer written by Mini Series co-host, Davonne Parks}
Dear Heavenly Father,
Sometimes we think we'd be free if we didn't have rules, but it's following Your guidelines that keeps us out of bondage. Give us the desire to submit to Your laws. Give us the strength we need to resist the devil in times of temptation, and show us how we can flee from forbidden fruit and run from evil doings so the devil will flee from us.
We want to draw near to You and close to each other. We're tired of straddling the fence and getting close to sin, then wondering why we stumble. Help us to resist temptation and please show us what we need to remove from our lives so we can continue resisting the devil on a daily basis.
Thank You for Your word and for always loving us.
In Jesus name we pray, Amen.
"Submit yourselves therefore to God. Resist the devil, and he will flee from you. Draw nigh to God, and he will draw nigh to you." – James 4:7-8, KJV

__________________________________________________________
" Submit yourselves, then, to God. Resist the devil, and he will flee from you. Come near to God and he will come near to you." – James 4:7-8, NIV
Looking for the Bible in a year? Click here for the December schedule.
---
---
About the Author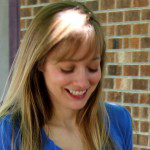 Known as The Tidy Mom, Davonne Parks authors a brand new inspiring blog where she encourages women to create an organized home environment that's conducive to life, love, laughter, and warm memories. Married 11 years, she and her husband Nathan homeschool their two children and run a thriving business together. Read Davonne's marriage testimony here, where she shares her heart for praying and growing as a couple. You can also check out Davonne's three inspiring eBooks, including Chaos to Clutter-Free, as well as subscribe to TheTidyMom.com to receive weekly homemaking motivation and inspiration.
---
---