Marriage Prayer – Romantic Compliments

{Song of Solomon Prayer Series written by Davonne Parks.}
Dear Heavenly Father,
Sometimes we focus on minor annoyances such as laundry on the floor, dishes at the table, or a negative habit that continually creeps back in. But we don't want to notice the negative so often that it causes us to forget about positive efforts that are being made.
Help us search for good qualities in each other so we can genuinely speak encouraging words.
Show us when we should compliment a nice outfit, verbally appreciate positive efforts, and notice the way a challenging situation was handled with care.
When we do need to discuss unfavorable issues, please guide our hearts so we can do so with gentleness and grace.
In Jesus name we pray, Amen.
"Thou art beautiful, O my love, as Tirzah, comely as Jerusalem, terrible as an army with banners. Turn away thine eyes from me, for they have overcome me: thy hair is as a flock of goats that appear from Gilead. Thy teeth are as a flock of sheep which go up from the washing." Song of Solomon 6:4-6, KJV
__________________________________________________________
"You are as beautiful as Tirzah, my darling, as lovely as Jerusalem, as majestic as troops with banners. Turn your eyes from me; they overwhelm me. Your hair is like a flock of goats descending from Gilead. Your teeth are like a flock of sheep coming up from the washing." Song of Solomon 6:4-6, NIV
Today's Marriage Challenge: Read Song of Solomon chapter 6 and compliment your spouse's appearance. Be specific when telling what you really like, and focus solely on the positive.
About the Author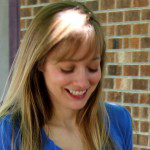 Davonne Parks and her husband Nathan imperfectly strive to build a godly home together. Davonne also encourages women to create an environment that's conducive to life, love, laughter, and warm memories. You can read Davonne's helpful eBooks as well as subscribe to TheTidyMom.com to receive homemaking inspiration and motivation.