Marriage Prayer – Romantic Friendship

{Song of Solomon Prayer Series written by Davonne Parks.}
Dear Heavenly Father,
With all of life's busyness and responsibilities, it can be easy to forget that marriage is supposed to feel fun sometimes – that it should be a welcomed sigh of relief from outside pressures.
Help us to have fun together as we simply enjoy one another's company. We want to keep the friendship alive in our marriage and to be lighthearted and cheerful with each other. Show us when we should help relieve tension by telling a funny joke, offering a giant hug, or turning on enjoyable music.
Please guide our hearts be receptive of accepting the offered playfulness even when we're feeling tense or tired.
In Jesus name we pray, Amen.
"He is altogether lovely. This is my beloved, and this is my friend…" Song of Solomon 5:16, KJV
__________________________________________________________
"He is altogether lovely. This is my beloved, this is my friend..." Song of Solomon 5:16, NIV
Today's Marriage Challenge: Read Song of Solomon chapter 5 and do something fun together – play a game, relax on your porch, dance in the living room, or hold hands while you take a walk.
About the Author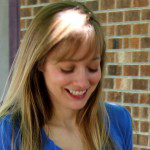 Davonne Parks and her husband Nathan imperfectly strive to build a godly home together. Davonne also encourages women to create an environment that's conducive to life, love, laughter, and warm memories. You can read Davonne's helpful eBooks as well as subscribe to TheTidyMom.com to receive homemaking inspiration and motivation.