Marriage Prayer – Romantic Gestures

{Song of Solomon Prayer Series written by Davonne Parks.}
Dear Heavenly Father,
When we were dating, we delighted in surprising each other and we found great joy in figuring out how to please one another.
But as time passed, we became more concerned about daily needs than romantic gestures. And now we're sometimes tempted to mourn the loss of a romance that used to be full of excitement. We miss the thrill of pursuing and being pursued.
Please help us to see how we can fix the issue.
Show us when we need to make each other a higher priority. Whether it's putting the phone down and shutting the TV off in the evenings, listening without mentally formulating a response, or making time to do something just for fun together, please give us a desire to bring the passion and excitement back into our relationship.
Help us to keep one another a top priority in our lives so we can restore all that's been lost as we seek to make our marriage what You want it to be.
In Jesus name we pray, Amen.
"My beloved spake, and said unto me, Rise up, my love, my fair one, and come away. For, lo, the winter is past, the rain is over and gone; The flowers appear on the earth; the time of the singing of birds is come, and the voice of the turtle is heard in our land; The fig tree putteth forth her green figs, and the vines with the tender grape give a good smell. Arise, my love, my fair one, and come away." Song of Solomon 2:10-13, KJV
__________________________________________________________
"My beloved spoke and said to me, 'Arise, my darling, my beautiful one, come with me. See! The winter is past; the rains are over and gone. Flowers appear on the earth; the season of singing has come, the cooing of doves is heard in our land. The fig tree forms its early fruit; the blossoming vines spread their fragrance. Arise, come, my darling; my beautiful one, come with me.'" Song of Solomon 2:10-13, NIV
Today's Marriage Challenge: Read Song of Solomon chapter 2 and plan a special surprise for your spouse. Whether you have a small gift shipped to home or work, make arrangements for a spontaneous date night, or simply place a favorite snack on the pillow, consider what will surprise and delight your love then follow through on your plan.
About the Author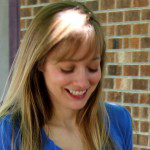 Davonne Parks and her husband Nathan imperfectly strive to build a godly home together. Davonne also encourages women to create an environment that's conducive to life, love, laughter, and warm memories. You can read Davonne's helpful eBooks as well as subscribe to TheTidyMom.com to receive homemaking inspiration and motivation.