Marriage Prayer – Romantic Satisfaction

Dear Heavenly Father,
When we're going through a difficult time together, it's easy to think other couples are happier than us. We see them holding hands, laughing, and enjoying one another's company, and it can be tempting to envy their relationship.
Help us to avoid the comparison game.
We want to renew excitement and passion in our own marriage, but we know we can't do that if we constantly compare our worst days to other couple's best moments.
Help us to see how we can delight in one another. Show us when we need to actively seek deeper satisfaction in our marriage by surprising each other and daydreaming about our nights together.
Thank You for being the Redeemer. Please restore our bad moments and guide our hearts so we can make our marriage everything that You want it to be.
In Jesus name we pray, Amen.
"His left hand should be under my head, and his right hand should embrace me... Make haste, my beloved, and be thou like to a roe or to a young hart upon the mountains of spices." Song of Solomon 8:3, 14 KJV
__________________________________________________________
"His left arm is under my head and his right arm embraces me.… Come away, my beloved, and be like a gazelle or like a young stag on the spice-laden mountains." Song of Solomon 8:3, 14 NIV
Today's Marriage Challenge: Read Song of Solomon chapter 8 and show your spouse that you're excited to spend intimate time together. Remove distractions, then initiate intimacy in a way you know your spouse will enjoy.
Special Note: This week's Song of Solomon marriage challenges were created with the 5 love languages in mind – acts of service, words of affirmation, quality time, physical touch, and receiving gifts. If you aren't sure how your spouse best enjoys giving or receiving gestures of love, take the free love language quiz here. I also highly recommend reading The Five Love Languages by Gary Chapman. My husband & I read this book together several years ago and our marriage still benefits from the principles we learned. (affil link)
About the Author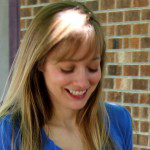 Davonne Parks and her husband Nathan imperfectly strive to build a godly home together. Davonne also encourages women to create an environment that's conducive to life, love, laughter, and warm memories. You can read Davonne's helpful eBooks as well as subscribe to TheTidyMom.com to receive homemaking inspiration and motivation.