Marriage Prayer – Romantic Words

I'm excited to announce a week-long prayer series hosted by my friend and fellow blogger, Davonne Parks, The Tidy Mom. The series will take place here at MarriagePrayers.today starting today, March 13th, and will run for eight days. 
Click through to my blog to read the introduction, and click through to Davonne's blog, The Tidy Mom, to learn more about my wonderful friend and the tidy home she keeps.  
Dear Heavenly Father,
There was a time in our relationship when we'd do nearly anything to be together, even if just for a few minutes. Saying I Do almost felt like a dream.
But, after our wedding day, bills arrived. There were difficult job situations. Sickness. Busyness. A realization that we don't always want the exact same things in life – that being in love doesn't mean we always agree.
And sometimes, we feel disappointed about how the other one has changed, but we forget that we're imperfect, too. And we forget that change isn't always bad. When we're seeking You, we're maturing and growing into who You want us to be.
Lord, please help us to appreciate each other. We want to have compassion on one another and to remember why we first fell in love.
Help us to renew the excitement in our marriage, beginning with the way we communicate to one another. We want to be kind, to act lovingly, and to show that we appreciate each other by speaking words of admiration and encouragement.
Thank You for being the ultimate example of an encourager and for loving us even when we fall short of what You desire.
In Jesus name we pray, Amen.
"Behold, thou art fair, my love; behold, thou art fair; thou hast doves' eyes. Behold, thou art fair, my beloved, yea, pleasant: also our bed is green." Song of Solomon 1:15-16, KJV
__________________________________________________________
"How beautiful you are, my darling! Oh, how beautiful! Your eyes are doves. How handsome you are, my beloved! Oh, how charming! And our bed is verdant." Song of Solomon 1:15-16, NIV
Today's Marriage Challenge: Read Song of Solomon chapter 1 and think about a few qualities you love and appreciate in your spouse, then share about your devotion in a card, a text, on the phone, or in person.
About the Author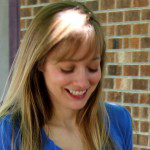 Davonne Parks and her husband Nathan imperfectly strive to build a godly home together. Davonne also encourages women to create an environment that's conducive to life, love, laughter, and warm memories. You can read Davonne's helpful eBooks as well as subscribe to TheTidyMom.com to receive homemaking inspiration and motivation.